Carolyne Rourke has stepped down as WEA President
On November 15, 2019 at WEA's "MORE THAN AN AGM" event, Carolyne Rourke stepped down as the President of the Windsor Endowment of the Arts, a position she has held since 2000. She will remain on the Board of Directors in her new role as "President Emerita".
The following speech was read by Stephanie Barnhard, the new WEA President, at the 2019 Annual General Meeting in front of a packed audience of family, friends and long-time supporters of Carolyne.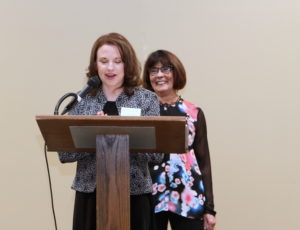 "More than 20 years ago Carolyne Rourke had a vision for the arts in our community.  And for Carolyne, her vision needed a community — a community of different people with various gifts to make the vision a reality.  Working tirelessly, she built a  foundation for an endowment by never accepting no, by always dreaming big and by  asking others to volunteer –their  time, money, and professional assistance. And sometimes she asked for all things at once, as many of you can attest. Truly Carolyne's leadership gift has been working with many people in many ways to build an inclusive cultural base in Windsor Essex.
Carolyne's unwavering dedication  allowed Windsor Endowment for the Arts to grow and flourish.  It may have started in small meetings in boardrooms and benches at the riverfront, but gradually has become a vital part of our community.   WEA is a testament to the vibrancy of the arts community in Windsor Essex and to the volunteer efforts of Carolyne Rourke.  She has been "the mother", cajoling  politicians, meeting with donors, writing letters, maintaining files, advising civic officials and always, always holding true to the vision. Through her passion and determination WEA has been able to establish an endowment of over half a million dollars to support artists and arts programs through grants and awards and its signature program to expose young people to the arts, Changing the Odds.
Determined, fearless, passionate, driven, . . . . .  This is the Carolyne we know and love.
The Board of Directors of WEA has decided to honour Carolyne in two ways.  First the Visual Arts Infrastructure Grant will be renamed the Carolyne Rourke Visual  Arts Infrastructure Grant.  Second, Carolyne will receive the title President Emerita in tribute to her tremendous contribution and as a sign of our respect.
Please join me in showing President Emerita Carolyne our warmest and most heartfelt thanks."