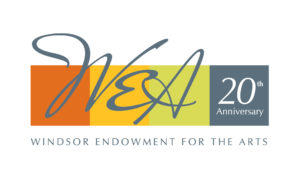 Date & Time
Wednesday, November 18, 2020 at 7:00 PM
Location
live-streamed from SHO ART Studios
Zoom Chat for members
Event Information
The Windsor Endowment for the Arts will be hosting our annual MORE THAN AN AGM event on Wednesday, November 18, 2020.
This year's event will be live-streamed from our headquarters inside Shō Art Studios to our members at home through Zoom or a similar online platform.
Following a short Annual General Meeting presentation by WEA Executives starting at 7:00 PM, the spotlight will shine on this year's 10 WEA Art Grant Recipients in Community, Literary, Performing and Visual Arts. These individuals will share their plans with us and perform sample works of their upcoming WEA-funded art projects, either in person or through pre-recorded videos.
This online event is for WEA members only. All are welcome to join WEA by purchasing a $25 tax-deductible membership. All members will be emailed an exclusive access link to the event by Tuesday, November 17th.
Click here to purchase a WEA Membership ONLINE. Or send an etransfer to info@wea-arts.com. Or mail a cheque along with this form.
We look forward to "seeing" you at this year's More Than an AGM!