2022 Grant Recipients
On the evening of Friday, May 20, 2022, the Arts Community of Windsor-Essex gathered together in the Vision Corridor next to Arts Windsor-Essex to celebrate the 2022 recipients of the 5 WEA Arts Leadership Awards, 11 WEA Arts Grants, and 3 Windsor Mayor's Arts Awards.
WEA EMERGING ARTIST GRANTS
EMERGING ARTIST IN FILM ARTS GRANT
Michael J. Krym 
writer, playwright, producer, and film director
The grant will help cover the production and talent costs for his film "The Thousand Colours of the Morning" written by Barry T. Brodie and featuring an all-Windsor-based production team, cast and crew.
Special thanks to the Emerging Artist in Film Arts Grant sponsor University of Windsor Alumni Association.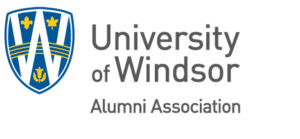 EMERGING ARTIST IN LITERARY ARTS GRANT
Jade Wallace
writer, editor, and co-founder of the collaborative writing entity MA|DE
The grant will help complete the drafting and editing of Wallace's solo sophomore, book-length poetry manuscript, "The Work is Done When We Are Dead."
EMERGING ARTIST IN PERFORMING ARTS GRANT
Austin Di Pietro
musician, composer, songwriter, and researcher
The grant will aid his research and study on transborder, transnational and border issues, and support the development of original compositions of the same theme in the contemporary jazz style. He plans to release a full-length album titled "BORDERS".
Photo credit: Kamryn Cusumano
LOIS SMEDICK EMERGING ARTIST IN VISUAL ARTS GRANT
Tina Rouhandeh
calligrapher and textile artist
The grant will help her complete her project "Inquiry about Forgotten Birds". The outcome of three years of experiments with fabric and hand stitches, calligraphy, and hand weaving to connect a traditional art form to contemporary art that tells the story of the persecuted people in her homeland Iran.
Special thanks to Katherine Roth for sponsoring this grant.
WEA ARTS INFRASTRUCTURE GRANTS
COMMUNITY ARTS INFRASTRUCTURE GRANT
Leamington Arts Centre (LAC)
The grant will help fund the "Bright Spots" community arts project that will feature works of art from the LAC Collection, and the Municipality of Leamington's Henry Collection. Selected artwork will be digitally reproduced and printed on outdoor displays in 6 public locations around Leamington.
LITERARY ARTS INFRASTRUCTURE GRANT
Vanguard Youth Arts Collective 
The grant will cover the printing expenses of Vanguard's Spot On! Magazine, a new artist interview series that offers a spotlight for emerging and established local artists who work in various media to discuss and promote their past and current art projects. The magazine will launch in the fall of 2022.
PERFORMING ARTS INFRASTRUCTURE GRANT
4th Wall Music 
The grant will help cover the costs of artist fees for the program "It's You I Like – The Music of Mr. Rogers" celebrating the music of the late Fred Rogers. This family-focused program will feature guest host Kate Reynolds, the "Lavender Librarian," and will explore Mr. Roger's contributions to music, education, inclusivity, and autism awareness. They hope to make a recording to release as a children's album.
The 4th Wall musicians will be joined on stage by the Clifford/Andrews Studio children's choir and students from WCAA Scenic Design class will be tasked with the set design.
CAROLYNE ROURKE VISUAL ARTS INFRASTRUCTURE GRANT
Paul & Kati-Jane Murray
The grant will help to pay a fair wage to the local performers and stagehands at their first annual "Music 'n Arts AID Live! The Ultimate BEATLES Tribute" This multi-disciplinary arts event will showcase the talent of visual artist Paul Murray and Canada's most awarded musicians & singers with a BEATLES tribute all night long. 100% of the ticket and art sales will go to support musicians and visual artists in Windsor-Essex.
Photo credit: Dan Boshart, Eyes on Windsor
MORRIS & BEVERLY BAKER FOUNDATION YOUTH GRANT IN THE ARTS
Kasey Scoboria
Kasey will be graduating from Walkerville Collegiate Institute this June. She is a violinist with the Windsor Symphony Youth Orchestra. She will use the grant funds to pursue the study of music at the University of Toronto. Her long-term goals focus on securing a chair in a well-respected orchestra and teaching music to youth.
ERIC JACKMAN YOUTH GRANT IN THE ARTS
Raida Farzat
Raida will be graduating from Riverside Secondary School this June. She is a visual artist born in the city of Homs, Syria. She will receive this $1,000 grant after completing a summer internship at a local arts organization. She is currently a member of the Teen Arts Council at Art Windsor-Essex.
ELIZABETH HAVELOCK GRANT IN THE ARTS
Dr. Russ Macklem
jazz trumpet player, composer and educator, and member of the Windsor Federation of Musicians, Local 566.
The grant will help pay a fair wage for all the performers at his UNITED concert series that will be performed monthly at Meteor Lounge in downtown Windsor and feature world-class jazz musicians from Windsor and Detroit.